Residential Construction Applications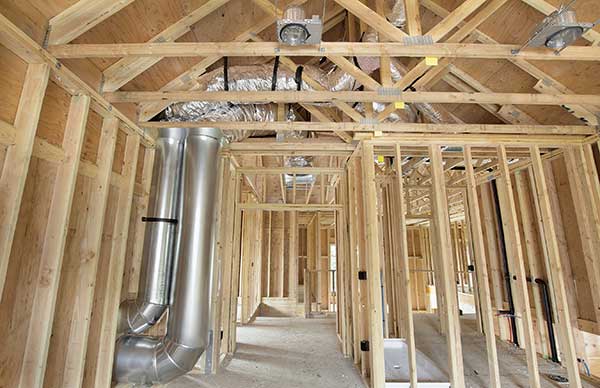 Residential Construction
Does construction noise in a residential community really put a squeeze on your schedule? If so, Acoustiblok has the solutions. Our All Weather Sound Panels (AWSP's) and Acoustifence (AF-6) have resolved thousands of noise issues in and around construction sites. The unique abilities of these products allow for simple high performance noise reduction solutions for the common noises associated with new construction.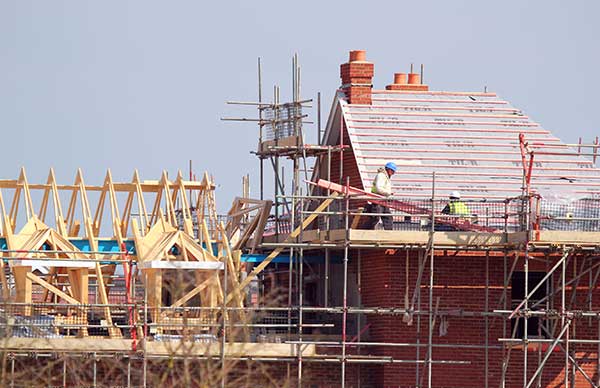 Reducing Job-Site Noise
For noise at your construction site, our patented AWSP's not only act as a sound isolation barrier, but also have a high level of sound absorption. This aids in reducing the overall noise level near the workers and also around the entire work area. Small, attractive, sustainable walls can be created to visually and audibly conceal unsightly construction processes. AWSP's have an NRC of 1.0 and an STC 30. They work extremely well on a wide band of frequencies and have a very high TL.
AF-6 (Acoustifence) is an amazingly simple product. AF-6 is a UV tolerant, flexible, mold resistant, 1/8" thick material that has a STC of 28. AF-6 has high levels of internal damping. This means it dissipates the sound energy within its own mass extremely well. Just add it to an existing construction fence and hear the magic. On average you can cut the sound level in half!
Acoustifence has reinforced mounting grommets placed in the side and top edges so you can strap it directly to your fence or structure, (please reference our installation guidelines for specifics). Acoustifence comes in a roll that is 6' high x 30' long. To construct a taller barrier we feature Acoustifence, AF-6C. This is a 6' wide vertical curtain that you call out the height on. These commercial curtains can be up to 20' high if the structure they get secured to is engineered properly. Wind is always a factor so we insist that an engineer is consulted when spanning heights upward of 20'.
Please call us to speak with a construction noise specialist.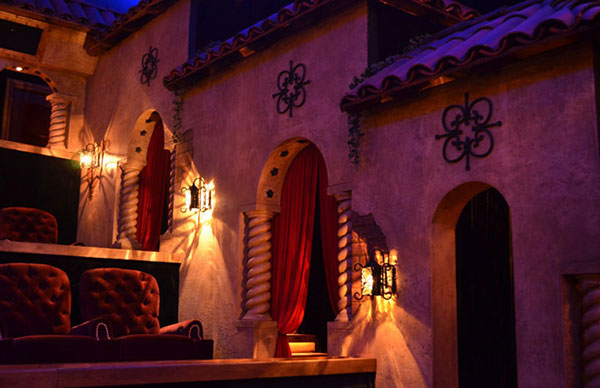 Home Cinema
This is where Acoustiblok was born! The most common need for sound isolation in most homes was a need to isolate the home cinema from the rest of the residence. Back in the 1990's thanks to Dolby Laboratories, THX, and DTS, we started to experience movies at home with dynamics, fidelity, and sound pressure similar to a commercial movie theater; great for movie lovers watching the movie, but not so much for the other people in a house around midnight.
As the market screamed for a solution, Acoustiblok, both the product and the company, were born. Blok16 was our pioneering product that would catapult our company into the future of sound isolation and acoustical solutions. Blok16 was the prize product compiled of acoustical fundamentals and a unique formula to give it over 400 UL classifications. Blok 16 is the perfect backbone of your sound isolation system for your home theater.
Blok16 is installed directly to the framing of your space behind the drywall. It gets installed on all the walls, ceiling, and in some cases the floor. It becomes an airtight membrane of extreme mass and flexibility. Think of it as a sound-deadening curtain behind the drywall of your home. It damps the walls, ceiling, and floor by lowering the natural resonance of the structure. Acoustical energy intersects Blok16 material and in turn, it excites the material by vibrating it internally. Since the material is a viscoelastic polymer, it dissipates the acoustical energy efficiently within its own mass and reduces the sound transmission to the opposite side of the wall, ceiling, or floor assembly.
To handle reflection control and in essence tune your home cinema's space, we feature QuietFiber (QF-2, 4 & 6). QuietFiber is perfect for controlling early reflections, first reflections, late reflections, and can be implemented as bass traps to aid in attenuating modal development.
Please feel free to contact us directly to consult with a home theater/cinema specialist.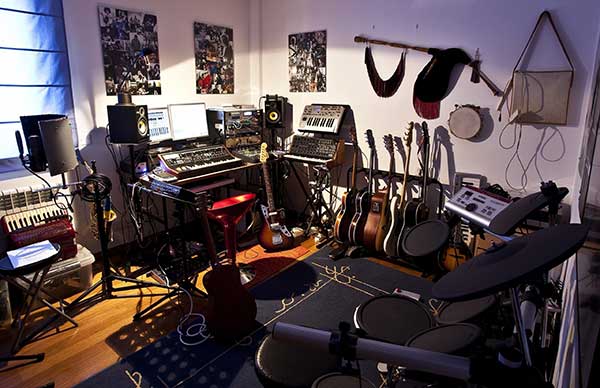 Home Studio
Everybody loves a good drummer as long as he is not your neighbor! The problem is that houses were never designed and built to deal with the high levels of sound intensity that are present when playing musical instruments. Then, to make it worse, those same instruments get plugged into large amplifiers and stacks of speakers, you know, like the ones you see at live concerts, just on a smaller scale. Acoustiblok has the products to help all would be rock stars keep their neighbors happy!
Acoustiblok, Blok16 & Blok32 – Is the ideal sound isolation membrane to line the walls, ceiling, and floor of your studio. These membranes are extremely efficient at dissipating extreme levels of impulsive and sustained sound across a wide band of frequencies. Blok16 has an STC26 & Blok32 has an STC32. The most effective levels of attenuation are gained from implementing these barriers at the time of construction.
Acoustiblok, AWC – This unique material has the same acoustical attributes, as our Blok16, but is the solution if your studio is already built. AWC is glued directly to the surface of your existing drywall. It can be left as is or covered with wallpaper, drywall texture or painted. This finish is up to you. By adding AWC to your standard gypsum wall assembly you can get results of up to STC53!
QuietFiber, QF-2 – This material is the icing on the cake. This is how you design the acoustical characteristics and specifics for your recording environment. QF-2 has an NRC of 1.0 and comes in slabs 2 inches thick by 4 feet wide and 6 feet long. QF-2 is extremely versatile and can be applied in several orientations to give you that perfect sound you're looking for: kill the destructive interference of the overbearing cymbals, squash the crippling edge of the lead guitar, or give the rhythm guitarist the tonality he or she's been looking for. Bottom line is that QF-2 is a tool, to help you achieve the perfect acoustical feel you want in your studio. QuietFiber is sold in bulk to give you the best value and most versatility in terms of form and function.
If you need a high performance, custom solution in terms of reflection control and modal attenuation in your studio, please feel free to contact us directly to speak with a residential studio specialist.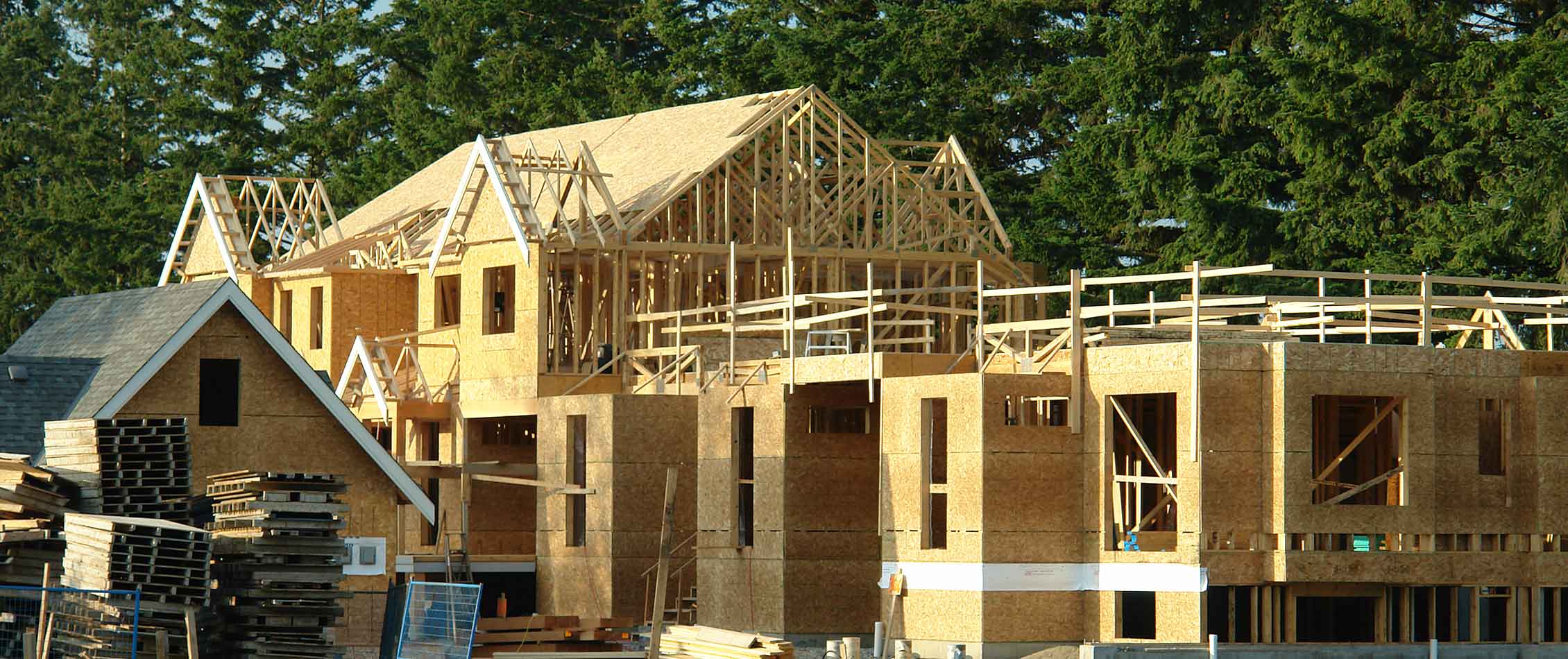 Residential Construction Applications