STC85 Rated Wall Assembly
Steel Stud, 2 Layers of Acoustiblok and Block Wall
The 3D model illustrates a steel stud, 2 layers of Acoustiblok and block wall assembly, rated STC85 in acoustical testing.
STC85 Steel Stud, 2 Layers of Acoustiblok and Block Wall Assembly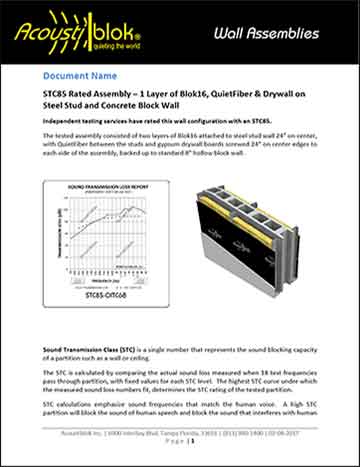 PDF Document
Swipe your finger to rotate the image.
[canvasio3D width="1200″ height="900″ border="0″ borderCol="transparent" dropShadow="0″ backCol="#ffffff" backImg="" mouse="on" rollMode="off" rollSpeedH="0″ rollSpeedV="0″ objPath="stc85ss_24" texturPath="" objScale="1.25″ objColor="" lightSet="1″ reflection="off" refVal="0″ objShadow="off" floor="off" floorHeight="42″ lightRotate="off" Help="off"] [/canvasio3D]
Using your mouse, you can rotate or zoom the image.